TEAC AI-301DA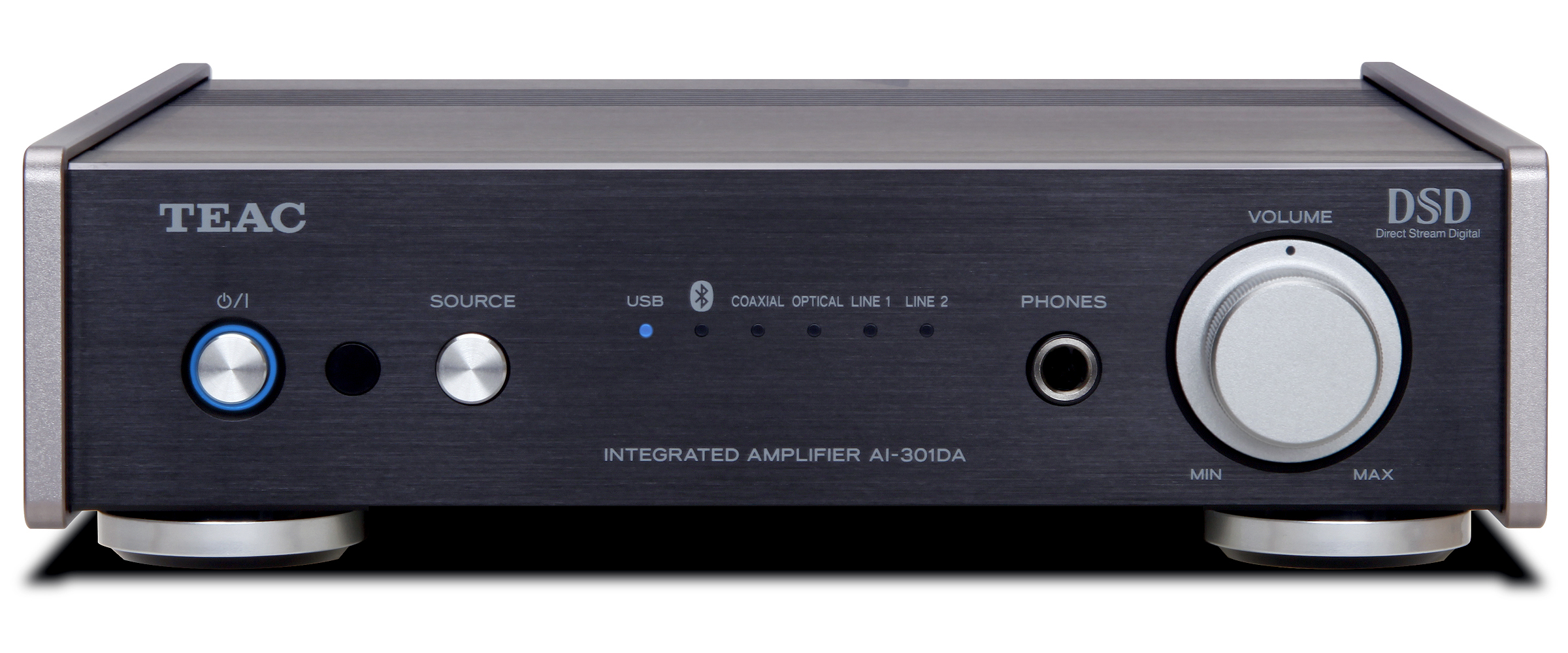 ICEpower 50ASX2-SE Class-D power amp. 60W + 60W (4 ohms) high output. 2.8MHz/5.6MHz DSD native playback (via USB input). 32bit/192kHz PCM file playback. Asynchronous mode capability. BurrBrown PCM1795 digital-to-analog converter. Bluetooth® playback with aptX codec. Memory capacity for up to a maximum of eight Bluetooth® device pairings. CCLC headphone output circuit. Full metal housing. One USB input (USB-B type). One coaxial digital input. One optical digital input. Two RCA stereo line inputs. Screw-type speaker terminals (banana plugs, AWG8 guage cable compatible). Headphone output (standard stereo jack). Subwoofer output (RCA). Aluminum motor-driven volume control. Three-pin IEC AC power socket.. Customized remote
ICEpower 50ASX2-SE Class-D power amp.
60W + 60W (4 ohms) high output.
2.8MHz/5.6MHz DSD native playback (via USB input).
32bit/192kHz PCM file playback.
Asynchronous mode capability.
BurrBrown PCM1795 digital-to-analog converter.
Bluetooth® playback with aptX codec.
Memory capacity for up to a maximum of eight Bluetooth® device pairings.
CCLC headphone output circuit.
Full metal housing.
One USB input (USB-B type).
One coaxial digital input.
One optical digital input.
Two RCA stereo line inputs.
Screw-type speaker terminals (banana plugs, AWG8 guage cable compatible).
Headphone output (standard stereo jack).
Subwoofer output (RCA).
Aluminum motor-driven volume control.
Three-pin IEC AC power socket..
Customized remote control included.
Auto Power On function (activated by digital signal sensing).
Auto Power Save function.
Thông số kỹ thuật
D/A Converter BurrBrown PCM1795
Bluetooth® Section
Bluetooth® version V2.1 + EDR
Output Class 2
Compatible profiles aptX®, A2DP, AVRCP
Output
Connector Screw-type (banana terminal plugs, AWG8 guage loudspeaker cable compatible)
Maximum output 60W + 60W (4 ohms, 20Hz to 20kHz, JEITA)
30W + 30W (8 ohms, 20Hz to 20kHz, JEITA)
Rated Output 43W + 43W (4 ohms, 20Hz to 20kHz, THD 0.1%, JEITA)
22W + 22W (8 ohms, 20Hz to 20kHz, THD 0.1%, JEITA)
Supported Impedance 4 ohms to 8 ohms
Analog audio input
Connector RCA jack
Digital audio inputs
USB
Connector USB B-type (USB2.0)
Transmission mode Asynchronous mode
DSD data
sampling frequency 2.8M/5.6M Hz
PCM data
sampling frequency 32k/44.1k/48k/88.2k/96k/176.4k/192k Hz
Bit rates 16/24/32bit
COAXIAL
Connector RCA jack
PCM data
sampling frequency 32k/44.1k/48k/88.2k/96k/176.4k/192k Hz
Bit rates 16/24bit
Input level 0.5Vp-p
Input impedance 75 ohms
OPTICAL
Connector Optical digital connector
PCM data
sampling frequency 32k/44.1k/48k/88.2k/96k Hz
Bit rates 16/24bit
Input level -24 to -14.5dBm peak
Headphones output
Connector 6.3mm(1/4″) stereo phone jack
Maximum output 100mW + 100mW (with 32 ohms load, 1kHz)
Distortion rate 0.005%
Power supply
USA/Canada AC 120V, 60Hz
Europe AC 230V, 50Hz
Power consumption 38W
Dimensions
(including protrusions) 215(W)×61(H)×254(D)mm
8.5″(W)×2.4″(H)×10″(D)
Weight 2.1kg
4.6 lbs
Accessories Power cord, remote control (RC-1313), AAA batteries for remote control×2, User Manual (including Warranty)
Audio performance
Frequency response 2Hz to 100kHz (-5dB)
S/N ratio 95dB(LINE Input, IHF-A/LPF 20kHz 1kHz 2V Input)
Distortion 0.01%(1kHz, 8 ohms, 1W)
Computer system requirements
Windows
Compatible OS Windows XP (32-bit only)
Windows Vista
Windows 7
Windows 8
Windows 8.1
Windows 10
Macintosh
Compatible OS Mac OS X Snow Leopard(10.6)
OS X Lion(10.7)
OS X Mountain Lion(10.8)
OS X Mavericks(10.9)
OS X Yosemite (10.10)
OS X El Capitan (10.11.1)
macOS Sierra (10.12)